There is a lot to consider when thinking about a career in contract healthcare. While not everything on this blog will apply to all jobs in contract healthcare, it will give you some food for thought.
1. Good progression and salary potential
While money isn't everything, it's often a major factor in any career-related decision. A healthy paycheque can help smooth over any of the less-than-great moments that come with work—and financial security, in general, is a big mental relief.
Depending on the role, earnings for contract healthcare workers can vary significantly. However, there are still plenty of opportunities for skilled individuals to bring home a good wage packet.
An impressive salary would be great, but it wouldn't be any good if the job opportunities are scarce in the first place. The good news is that contract healthcare has a growing demand! The medical needs of our ageing population mean the healthcare industry is continuing to expand, with new opportunities available on a daily basis.
2. Potential for a flexible schedule
As people need medical attention at all times of day and night, many contract and agency healthcare roles allow you to work flexible hours. There are multiple opportunities to work shifts or overnights, enjoy a short work week or even work remotely if the role allows it.
Nurses are especially known for the benefits of unconventional schedules, including 3 day work weeks. Nurses aren't the only contract healthcare workers benefiting from these flexible schedules, many Allied Health Professionals also reap the rewards too.
3. Jobs for your personality type
The healthcare industry offers a wide variety of careers—there's something for everyone!
If you love being around people, consider a patient-facing role like a support worker.
Healthcare jobs that aren't patient-facing also require work that is thoughtful and necessary to keep clinical environments running smoothly. Medical administrators have unique perspectives on the creation, storage and management of important health information records.
Possibilities abound when it comes to a contract healthcare career that matches your interests and personality.
4. Stimulating work environments
If you're the kind of person who likes to experience something new and different every day, contract healthcare offers variety in regards to the people you will meet, problems you need to solve and places you will work. You can work in many settings from hospitals, in-home counselling and therapy or for corporations to name a few.
5. Your work can be fulfilling
It might seem like a small thing, but the lack of a rewarding job can be a significant drain on your energy.  Work is such a large part of daily life. If it is important to you that your time is spent making a difference for people and communities, contract healthcare is a great industry.
Every single day, healthcare workers are required to care for others, whether it is the patients who need care and attention or families seeking assistance navigating difficult and complex medical situations. The medical facilities you work in may also require behind-the-scenes support to keep delivering their service smoothly and safely. It is a fast-paced and dynamic field where each day presents new challenges.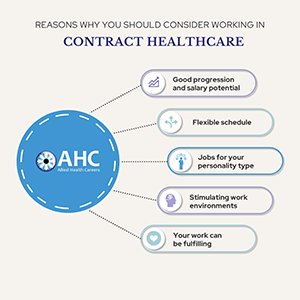 If you are interested in knowing more about what opportunities are out there, please contact Rachel at Allied Health Careers.